Get Best GST Practitiner Near You
Select State
Select District
Please select a District
Online GST Registration in Ahmedabad
*The above data is refered from GST Portal
GST Registration in Ahmedabad
Online Document Submission & Application Tracking. GST Registration in Ahmedabad Start Just at INR 799/-
Filing of Application for GST Registration.
Secure GST Identification Number.
Dedicated manager to process your GST registration end to end.
Entire online procedure:
GST is one and only tax reforms in India, massively enhancing the simplicity of working together and expanding the taxpayer base in India by acquiring a large number of independent companies in India. Under the new GST routine, every entity involved with purchasing or selling of goods needs to do GST registration.
Nowadays GST registration is in light of the fact all over the country. GST Rates as of now has been settled by the government, The taxpayers in Ahmedabad who are already registered under the VAT/CST or with any other tax need to change over into the GST Registration.
Here you can get to know the detailed information for the procedure to complete GST registration in Ahmedabad.
For completing GST registration in Ahmedabad, follow the simple three-step procedure mentioned below:
3 Easy Steps to get GST Registration in Ahmedabad
Application Drafting:
Our experts will help you to know the entire details for the process of drafting. Draft the form and fill every mandatory field.
GST Application Filing:
Application filing will be processed.
Approval
As soon as the drafting and filing procedure will be completed, the application will be sent for approval.
Documents Required for GST Registration in Ahmedabad
To get GST registration in Ahmedabad you will require a few documents such as mentioned below:
PAN card of the Applicant
Aadhaar card of the Applicant
Business registration proof or Company Incorporation certificate
Identity and Address proof of Promoters/Director with Photographs
Address proof (Business place)
Bank Account statement details or Cancelled cheque
Digital Signature of the applicant
Letter of Authorization
Benefits of Registration Under GST
Elimination of cascading effects:
GST is an indirect tax which has eliminated various other taxes in India. It will help to remove the "tax on tax" system.
Higher limit for registration
Earlier taxpayers with the limit of 5 lakhs to 10 lakhs have to register themselves under the taxation system. GST has eliminated other taxes and is counted as one uniform tax in India. As per the GST Act, every taxpayer whose annual turnover is above 40 lakhs needs to register themselves under GST. Which means the small business holders are exempted from GST registration.
Simple online process
The whole procedure of GST is completed online, and it is very easy. This has been useful for new businesses particularly, as they don't need to follow the unwanted taxes and run for different types of registration
What is GST
The goods and services tax (GST) is a value-added tax levied on most goods and services sold for domestic consumption. It is a destination based tax on consumption of goods and services. It is proposed to be levied at all stages right from manufacture upto final consumption with credit of taxes paid at previous stages available as set off. In a nutshell, only value addition will be taxed and burden of tax is to be borne by the final consumer.
The tax came into effect from July 1, 2017 through the implementation of One Hundred and First Amendment of the Constitution of India by the Indian Government. The tax replaced existing multiple Central and State Government taxes.
The tax rates, rules and regulations are governed by the GST Council which consists of the finance minister of central and all the states. GST is meant to replace a slew of indirect taxes with a unified tax and is therefore expected to reshape the country's 2.4 trillion dollar economy. GST tax rates vary from 0% - 28% depending on the type of service or Nature of Goods Your business is selling. The GST is paid by consumers, but it is remitted to the government by businesses selling goods and services. In effect, GST provides revenue for the government.
Online GST registration
GST (Goods and Services Tax) is essentially an Indirect tax which has been implemented to replace numerous taxes in India. Onlne GST registration was passed in the Parliament on 29th March 2017 yet it became effective on 1st July 2017 in India. As per the changes in the 32nd council meeting, the threshold limit for GST registration is 40 lakhs for the supplier of goods and 20 lakhs for the supplier of services. Along with that, the North-Eastern States have an option to choose between 20 lakhs and 40 lakhs. Once you have registered under this regime, you will receive a unique GSTIN (Goods and Service Tax Identification Number). There are various advantages of GST registration. You can also avail input tax credit and collect GST from recipients of goods and services.
Online GST registration can be easily done by visiting Online GST portal. It is easy to fill the form on GST online portal yet at the same time you require the expert's to fill the form with accurate information and submit the documents accordingly. Few of the terms while drafting for GST registration cannot be understood by many of the taxpayers. Therefore at the initial stage GST registration should be done with the help of experts and here at Legaldocs, you will be able to get done with your GST registration with a simple and quick process.
Additional Read : Online GST Registration Guideline
How to Register for GST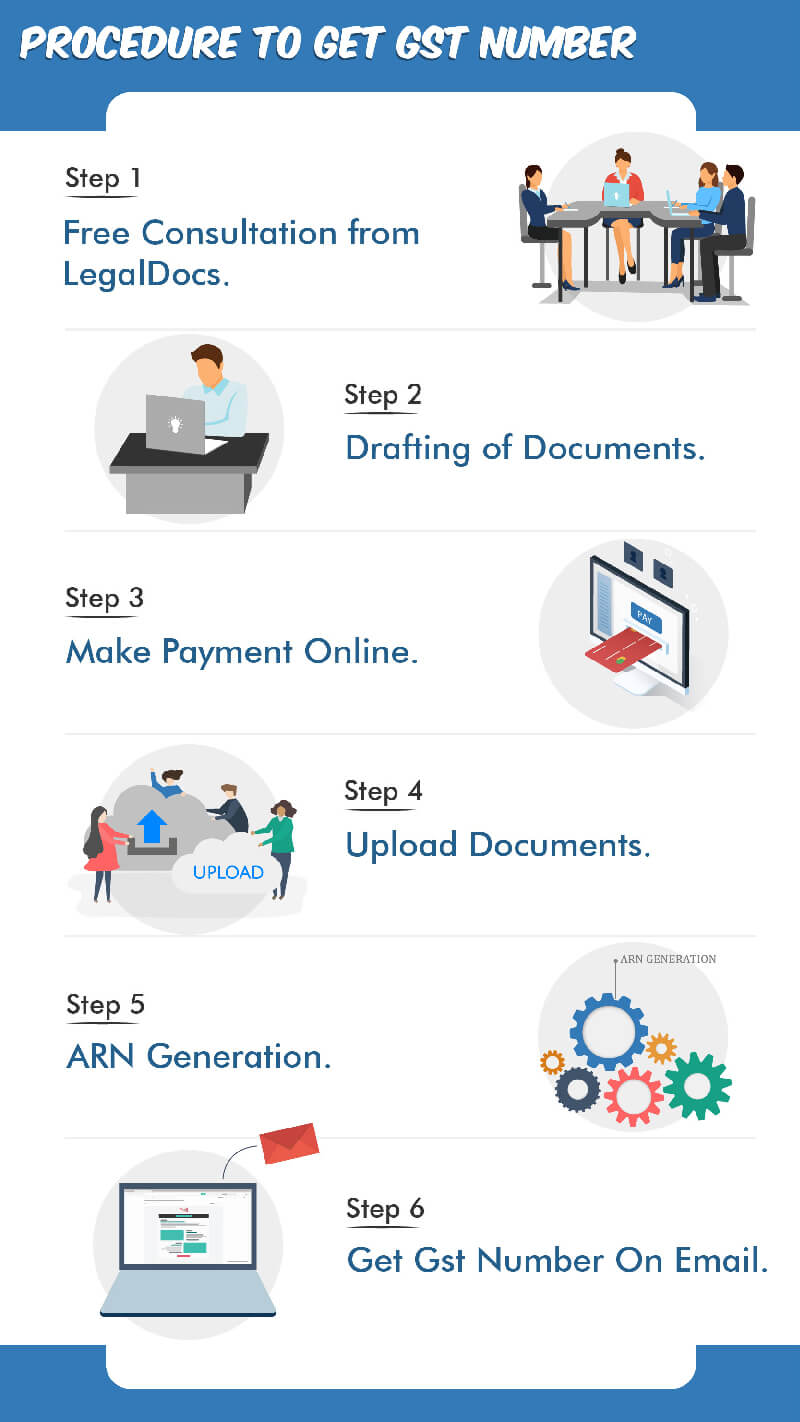 Timeline
Drafting, Payment and Document Upload
Our Team will consult you and help you with the drafting and Documents
Action Required by you
You need to fill up the simple form by logging in on LegalDocs website, make the payment after drafting. Upon Sucessful payment Document Upload section will be visible to the customer.
Action By Legaldocs
Legaldocs will Provide you free of cost consultation on eligibility, Documentation and Drafting
Application Submission
Application will be submitted to GST Department with necessary details and documents. In this step TRN and ARN are generated.
Action Required by you.
You need to share OTP which you receive on your phone and Email ID.
Action By LegalDocs
We'll work diligently on your application and submit it to GST Department.
Application Scrutiny
Application will be checked by GST authority in terms of proper documents and details.
Action Required by you
Just sit Back and Relax
Action By Legaldocs
We'll Follow up on the Application and Resolve queries Raised by GST Department
Approval
Congratulations, your GST Registration is sucessful.
Action Required by you
You'll Receive a Mail From GST Department having Login ID and password. you need to Logi to the Portal and Download the GST Certificate
Action By Legaldocs
LegalDocs Will share a Link for your Review and Suggestion. Choose your filing packages as per your monthly invoices and we'll do the filing for you.
---
GST Calculator Online
GST was introduced in the year 2017 on 1st July, for the purpose to reduce the multiple taxes and build up a uniform tax in India. GST is segregated in four different types such as ;
1. IGST (Integrated Goods and Services Tax)
2. UTGST (Union Territory Goods and Services Tax)
3. CGST (Central Goods and Services Tax)
4. SGST (State Goods and Services tax).
GST registration is necessary for every taxpayer who falls under GST criteria. There are many (at least more than 5) GST slabs in India, and if you are trading/working in multiple GST Slab goods, you have to calculate values with/without GST. GST Calculator Online helps you to get either gross or net profit on GST rates. The GST calculator online spares time and reduces the mistake which can be done by humans while calculating the expense on Goods and Services.
Our online GST calculator helps you to calculate SGST, CGST, IGST tax amount easily.
Calculate GST now by using our
Additional Read : How to Calculate GST online?
List of Documents Required for GST Registration
| Proprietorship | Private Limited | Partnership/ LLP |
| --- | --- | --- |
| PAN Card of Owner | PAN Card of Company | PAN Card of Partnership |
| Aadhaar Card Of Proprietor | Aadhaar of All Directors | Aadhaar of Partners |
| Bank Details | Bank Details | Bank Details |
| Address Proof | Address Proof | Address Proof |
| | MOA, AOA and Incorporation | Partnership Deed/ LLP Certificate |
Additional Read : GST Compliance Checklist
Current Account Opening
A current account is a type of deposit account that helps the professionals and businessmen to run their business. Businessmen can avail various benefits by Online Current Account such as:
Unlimited transactions
Customized features
Online banking services
Online current account reduces the hassle and provides the benefit to complete the banking process anytime and anywhere.
Are you Ready to Grow your Business?
Zero Balance Current Account
In just 5 mins
Free Current Account Powered by ICICI Bank
Benefits of GST Registration
You can legally collect taxes from your customers and pass on the Tax Benefits to suppliers.
Business Becomes 100% tax Compliant
You can Claim Input Tax Credit which you have paid on your purchases and improve profits.
GST certificate can be used as one of the documents while opening current account or Business Account.
You can easily apply for various states and Central Government tenders if you have GSTN.
Expand your business through various channels like Online, Import-Exports
To start payment gateways and use mobile wallets GST number is used.
What are Different Types of GST Registration?
For the filing of GST, transactions need to be classified depending on the type of customer to whom the sale is done. Following are the two different types of GST registration:
A. Registration Under Composition Scheme:
The Composition Scheme is for the small taxpayers in order to ease the tax compliance for them. This scheme allows eligible taxpayers to pay a percentage of their yearly revenue as a tax. Like small retailers, eateries and trading businesses. This will relieve the taxpayers/ businesses from collecting taxes from their customers directly and adds benefits as mentioned below:
File Single Quarterly return, not multiple monthly returns.
Pay Lower Tax which gives competitive advantage
Books of Accounts and Records are easy to maintain under GST norms.
In short, this is a customer who has a business which is registered under the composition scheme of GST and has a GSTIN.
Following is the eligibility criteria to register under GST Composition Scheme :
Must be a Registered Taxpayer
Annual Turnover should be less than Rs 1 Crore
Manufacturers of Goods, Dealers, and Restaurants (Not Serving Alcohol) can opt for this scheme.
B. Registration As a Casual Taxable Person:
Casual Taxable Person is a person who supplies taxable goods or services occasionally like a event management company which has various events in different states needs to register as a Casual Taxable Person for that particular taxable state before supplying or offering any goods or services.
Suppose Mr. 'A' has a business of consulting and who provide services in different states, then he needs to register as a Casual Taxable Person so that his business is compliant with the tax norms of that particular state.
Package Includes
Package Includes
| | |
| --- | --- |
| GST Certificate | GST invoice Template |
| GST Offline Invoice Software | GST HSN Codes and Tax Rates |
Who Needs GST Registration Number?
Businesses having annual turnover morethan Rs 20 Lakhs Per Annum (Rs 10 Lakh for North Eastern States)
If business is dealing in more than one state
If your business has previous registration under VAT, Excise Laws, Service Tax Laws
Selling your goods or services online (like selling on Amazon and Flipkart)
If you are providing services and goods outside India.
Penalties Involved under GST Act
Not having GST Registration : 100% tax Due or Rs10,000. Whichever is higher
Not giving GST invoice : 100% tax due or Rs10,000. Whichever is higher
Incorrect Invoicing : Rs 25,000
Not filing GST Tax Returns : For Nil Return its Rs 20 Per Day, Regular Returns Rs 50 Per Day.
Choosing Composition Scheme even if not eligible : 100% tax due or Rs10,000. Whichever is higher