GST Cancellation Online
A GST registration obtained in India can be cancelled by the registered person or by GST Officer or by the legal heirs of the registered person, in case of death of the person registered under GST.
Who can Opt for GST Cancellation?
An individual can opt for GST Cancellation Online under the following circumstances:
1. Non-filing of GST Returns for 6 months
2. Non -Filing of GST Returns for 3 months u/s 10 of GST act
3. No business activity – If its close or death of the proprietor, discontinued or transferred fully, demerged, amalgamated with another legal entity.
4. Unlawful GST Registration (Registration has been obtained by means of fraud, willful misstatement or suppression of facts.)
5. Voluntary cancellation (Non-filing of GST Returns for 6 months)
6. Non-Voluntary / SUO Moto Cancellation
7. Change any constitution of business or any taxable person other than u/s 25(3) and u/s 22 & 24 of GST act.
Documents Required for GST Cancellation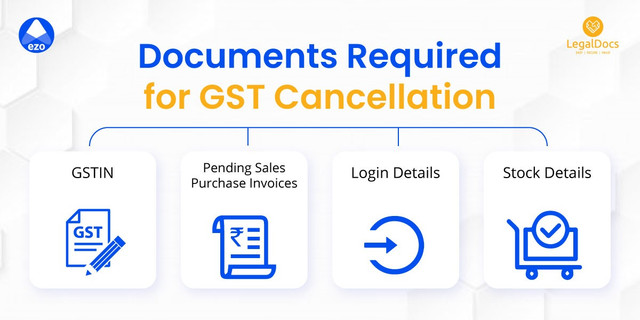 Following are the documents required for Online GST Cancellation.
The GSTIN of the business to be cancelled
Details of inputs held in stock or inputs contained in semi-finished or finished goods held in stock
Details of any pending GST liability, fines, penalty, etc.
Details of any GST payment, made against such liability and details of input tax credit.
GST Cancellation Process
Please follow the simple 4 step procedure for GST Cancellation Online
Step 1
Login to LegalDocs Website

Step 2
Upload your Documents and Make the Payment

Step 3
Our GST Expert will file FORM GST REG-16

Step 4
Acknowledgement of GST Cancellation on Mail
What needs to be done before Cancelling / Surrendering GST
clearing all the GST dues
paying all the taxes for which sales invoices are issued
clearing all the penalties for delay in filing/ non filing
Why Choose LegalDocs?
Best Service @ Lowest Cost Guaranteed
No Office Visit, No Hidden Charges
360 Degree Business Assistance
Serviced 50000+ Customers